What can you do with an Oracle Cloud Trial?
What can you do with an Oracle Cloud Trial...a lot!
As an Oracle Platinum Cloud partner, DSP are provided with trial accounts from a variety of initiatives. These Cloud trial accounts are identical to the Cloud trials that can be requested here.
One question that I get asked a lot is what you can do with a Cloud trial; it's only 30 days and £350 pounds. The first thing to note is that the Cloud services are heavily discounted in the initial trial and therefore it's more like you're getting access to £3500 of Cloud credit. However that doesn't always satisfy people, so here is an example of what I did with my last Cloud trial (and some screenshots to prove it).
Autonomous Datawarehouse (1-4 OCPUs and 1 TB Storage)
We ran ADW for a month and loaded data into it for an internal project; it was mostly running at 1 OCPU but we turned it up to 4 OCPUs when we wanted to load data into it. Once that was done we scaled it back down to 1 OCPU.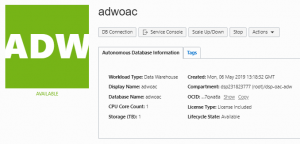 Oracle Analytics Cloud (Standard Edition 2 OCPUs)
We started working on an OAC demo but quickly moved from the SE product to the EE product. For about 7 days we had OACs SE running and then terminated it for EE.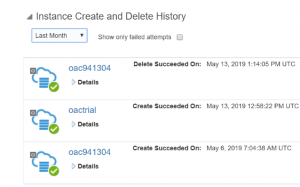 Oracle Analytics Cloud (Enterprise Edition 4 OCPUs)
We had OAC EE running for the majority of the trail, starting at 2 OCPUs but then moving to 4 OCPUs when we wanted to improve the speed of some of the visualisations. It's also worth noting that it looks like OAC can be suspended to reduce its monthly cost; something I saw one of the OAC PMs screenshotting on twitter.

Oracle Enterprise Manager (2 OCPUs and 500GB Storage)
Oracle released the Oracle Partner Market Place image for Oracle Enterprise Manager 13.3 during this trail, so I wanted to take a look. I've historically done a lot of work with OEM and was interested in the image and provisioning process. It worked well and it was easy to use; I only had this running for about a week, after which I just kept it shut down.
Oracle Linux VM (1 OCPU and 1TB Storage)
I used an Oracle Linux VM for loading data into ADW; moving data around into Object Storage and various other administration tasks. This VM was running for the majority of the month.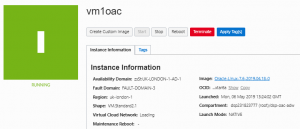 Windows 2016 SE SQL Server (2 OCPU and 500GB Storage)
I wanted to connect OAC to SQL Server and therefore needed to deploy Windows and SQL Server. This was a straightforward process and allowed our Analytics team to connect OAC to both ADW and SQL Server.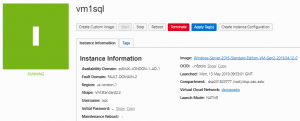 Windows 2016 SE PowerBI (2 OCPUs and 250GB Storage)
As we were looking at some Analytics capabilities I thought I would also look at connecting PowerBI into ADW. This was the desktop version, but I decided to co-locate it in Oracle Cloud rather than use my laptop. Again, it was simple to provision and get moving. I actually started to look at Tableau but then went with PowerBI hence the name of the VM…😂

As you can see, I've done a lot with my Cloud trial and I would recommend you do the same; remember the Cloud trials are FREE and only switch to paid if you OPT IN! I.e. You have to say I WANT to pay, not I DON'T. All the Cloud Services are available within the Cloud trial, so you could also look at Oracle Management Cloud, Cloud Access Security Broker; Data Integration Platform Cloud.
30 days may or may not be long enough to suit your needs and get an idea of the services Oracle offers; if it's not then DSP can assist you with longer trials (contact us for more information regarding this…). Either way, 30 days should enable you to achieve a lot and any PoC / PoV is normally benefitted by a time boxed activity rather than it dragging on and on…and on...
Anywho here is the trial link below. You never know, you might like it…
https://cloud.oracle.com/tryit
And as a side note, how much of my FREE cloud credit did this cost me?