Since Oracle has expanded its Data Visualization portfolio, (particularly with the launch of Data Visualization Cloud Service (DVCS) and Data Visualization Desktop (DVD)), I have written a few blogs providing an overview of the two products' key features, an overview of access controls in DVCS, an overview of how to manage data sources and more recently, an introduction to Visual Analyzer.
In the last of my regular blogs on Oracle DV, I will provide an update on how things have changed following recent releases, and offer an updated comparison between DVD and DVCS.
What's Changed?
Essentially DVCS remains unchanged from when I started posting back at the end of May, save for a few additional visualization types available in Visual Analyzer.
However, there have been a couple of releases of DVD since that time that have extended its functionality, both in maintaining Data Sources and in Visual Analyzer, the most striking of which are discussed below.
DVD Data Sources
New Display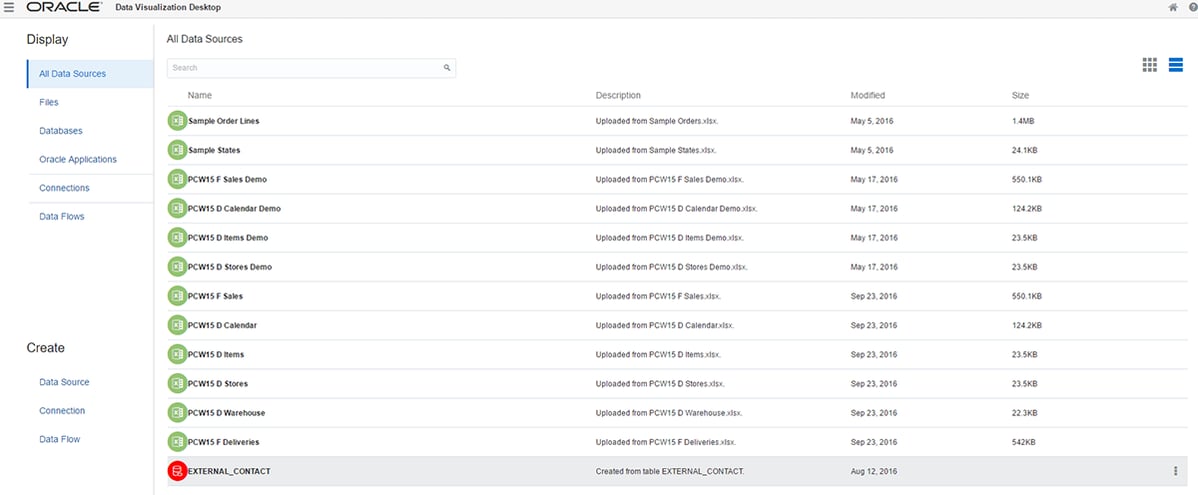 Figure 1. DVD Data Sources Page
Changes are immediately noticeable on entering the Data Sources page. The latest release has introduced a welcome reorganisation to the way data sources are managed. A new display pane categorises data sources by type, connections and introduces Data Flows. New data sources, connections and data flows can be generated via the Create Pane.
New Files and Connections
It is now possible to use .CSV files as data sources as well as Excel spreadsheets. In addition, connections to numerous new databases are possible – many still at beta stage, but including to cloud storage solutions such as Dropbox or Google Drive.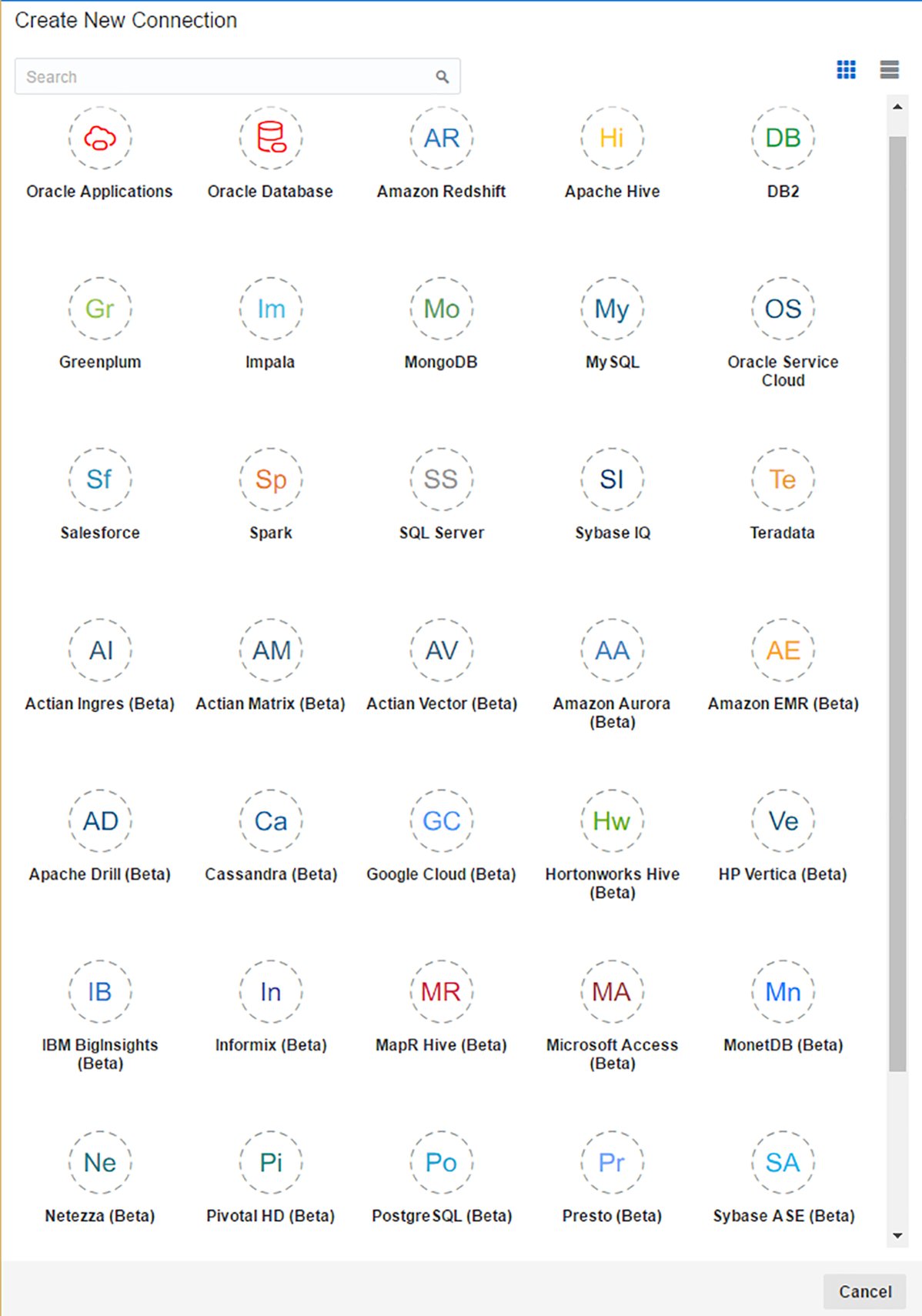 Figure 2. DVD Database Connections
Data Flows
In DVD 12.2.2.0, Oracle has introduced Data Flows. Essentially, this is a way to allow transformation of datasets, subsequently referencing the data flow in Visual Analyzer projects. Transformations can include joining two datasets, selecting specific columns or adding new ones based on formulas, filters and aggregation.
In the example below, I have taken five columns from a Sales data source and two columns from a Calendar data source and joined them by matching Sales Date to Day Date to combine the data into a new data source.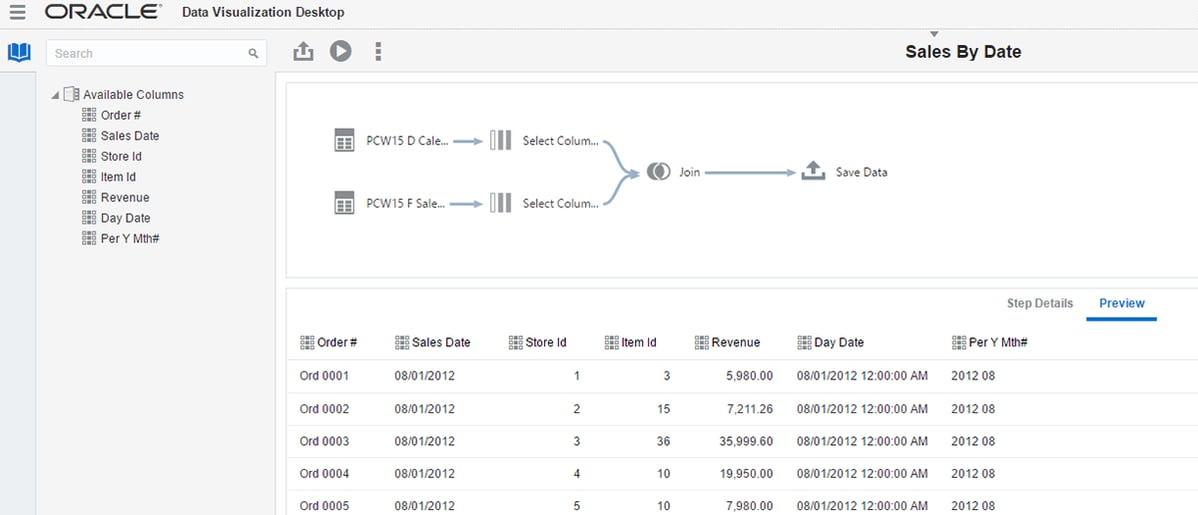 Figure 3. DVD Data Flows
So, data flows enable users to enhance and potentially simplify data before it is employed in VA projects, reducing the potential workload of the VA queries.
DVD Visual Analyzer
Smart Insights
Now, in DVD, when users first add data sources to their VA projects, they can gain a quick insight into the data in the Prepare canvas, to help them determine how best to report on the data. The Visual view in the Prepare canvas provides visualizations for each column in the data source and users can gain further information into each attribute column by summarising by each measure.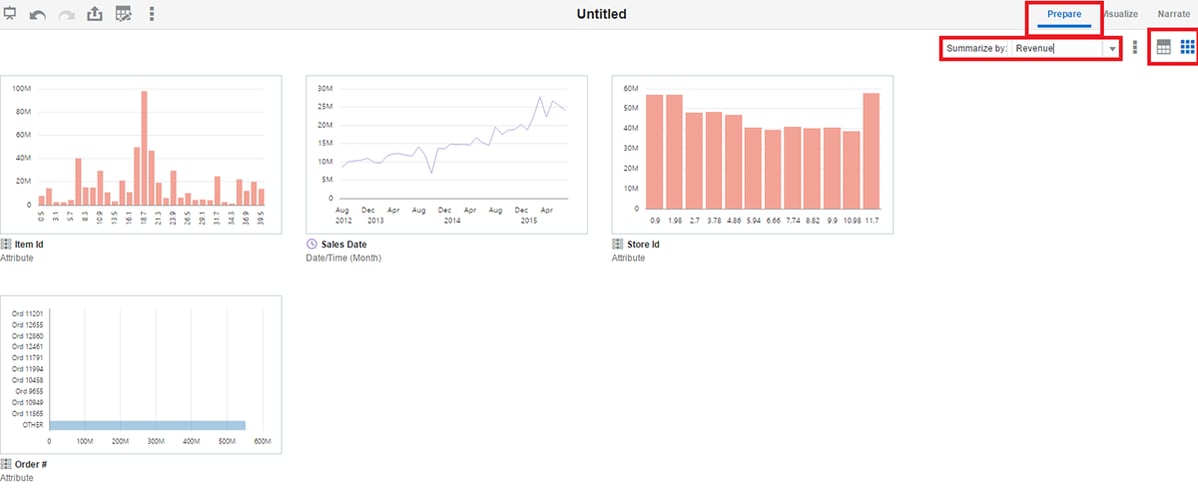 Figure 4. DVD VA Smart Insights
Additionally, within DVD Visual Analyzer, there are extra visualization types over DVCS, those being: Sunburst; Parallel Coordinates; List; Timeline; Tree Diagram; Chord Diagram; Circular Network; Sankey; Network.
DVD Output and Sharing
With DVD, there has always been the facility to export/import projects to share. Recent improvements have enabled various outputting and sharing options, including:
Print a visualization, canvas or story
Output visualizations, canvas or story to PDF or Powerpoint
Summary
It seems that in recent months Oracle's focus has been to enhance the functionality of DVD, but not DVCS. DVD already provided the ability to connect directly to on-premise relational databases and had access to advanced analytics that are not available in DVCS. DVD's connectivity has been expanded and, additionally, the latest releases have provided some really useful tools that would equally benefit DVCS.
I feel that DVCS has real intermediate and long-term potential to offer users the opportunity to share in the exploration and dash-boarding of their organisations' data. Especially as their organisations expand operations into cloud services, DVCS seems a better fit.
Oracle have previously indicated to me that functionality between DVD and DVCS will be synchronised but it isn't happening at the moment, which is a shame. DVCS isn't ready yet!
Trial Data Visualization
Both DVCS and DVD are available to use to trial / evaluate:
Other Links
---
Author: Philip Ratcliffe
Job Title: Oracle APEX Development Consultant
Bio: Philip is a Development Consultant at DSP-Explorer. Building on considerable experience in development including using Oracle PL/SQL and supporting Oracle EBS, Philip is employing APEX to provide quality, bespoke software solutions to a range of organisations.
---