As you may have seen from our twitter updates this week Explorer were again in attendance at the UK Oracle User Group event in Birmingham (UK OUG Tech 16).
As we are an Oracle Platinum Partner, a UKOUG Silver Partner and this year picked up two Gold Awards and a Silver Award at the UK OUG Partner of the year awards 2016/17 it's an important event for us. The purpose of this post is to round up what we did at the event and to summarise some of our favourite parts.
The Event
The UK OUG TECH 16 conference was from 4-7 December and ran in parallel with Apps 16 and JDE 16 at the Birmingham International Convention Centre (ICC). The conferences have been running for many years so if you are interested in the history then check out this link.
Thousands of people were in attendance to see many presentations in every technology stream and also to network and connect with other businesses.
Explorer had no less than 12 of us in attendance in total spread across the three days from the Sales, DBA, Systems and Development departments.
Our Presentations
Explorer were involved in five presentations at this year's Tech event neatly spread across the three days.
Matt Mulvaney and Philip Ratcliffe kicked things off on Monday morning with APEX Version Control & Team Working and Insights Into Data Visualization Cloud Service respectively.
On Tuesday morning Craig Sykes gave us APEX, Meet the Rest of the Web – Modern Web Technologies in Your APEX Application and then in the afternoon Matt Mulvaney and Craig Sykes gave us A Complete Guide to APEX Dynamic Actions.
Finally on Wednesday morning Justin Tomlinson and Craig Sykes gave an insight in to Enhancing Cloud Control With APEX.
If you follow the links to the above abstracts you can read further in to what the presentations were all about and download the slides if you have the password from the event.
Do not fear if you do not have the password though; keep an eye on our blog as over the next few weeks ALL of them will be posted as video blogs for you to enjoy and learn from. Having watched and listened to all of them I can assure you they are all worth a look.
Other
The other presentations I attended were all part of the APEX stream. There was a great deal of focus on the upcoming release of APEX 5.1 with presentations from Oracle's Anthony Rayner, David Peake and Mike Hichwa on the features in APEX 5.1 and the packaged Apps which will be available.
Mike Hichwa gave us the comment of 'Coming Soon' for the release of APEX 5.1 and also demoed an APEX application called 'Quick SQL' which looks like a very awesome way to produce the DDL for creating a schema (quickly!).
From other people in the community we saw some great tips on JET Components, Javascript APIs, ORDS, REST & JSON, and some of the many ways in which APEX has been used to make some fantastic business applications.
The highlight of the presentations for me was the Community Keynote: Oracle APEX Past Present & Future from Mike Hichwa. It was a pleasure to have The Godfather of APEX in attendance at the event and the way he described the history of APEX and all the many ways in which it is being used was fascinating. Mike also showed the below slide as a glimpse in to the future of what's still on the roadmap for future versions: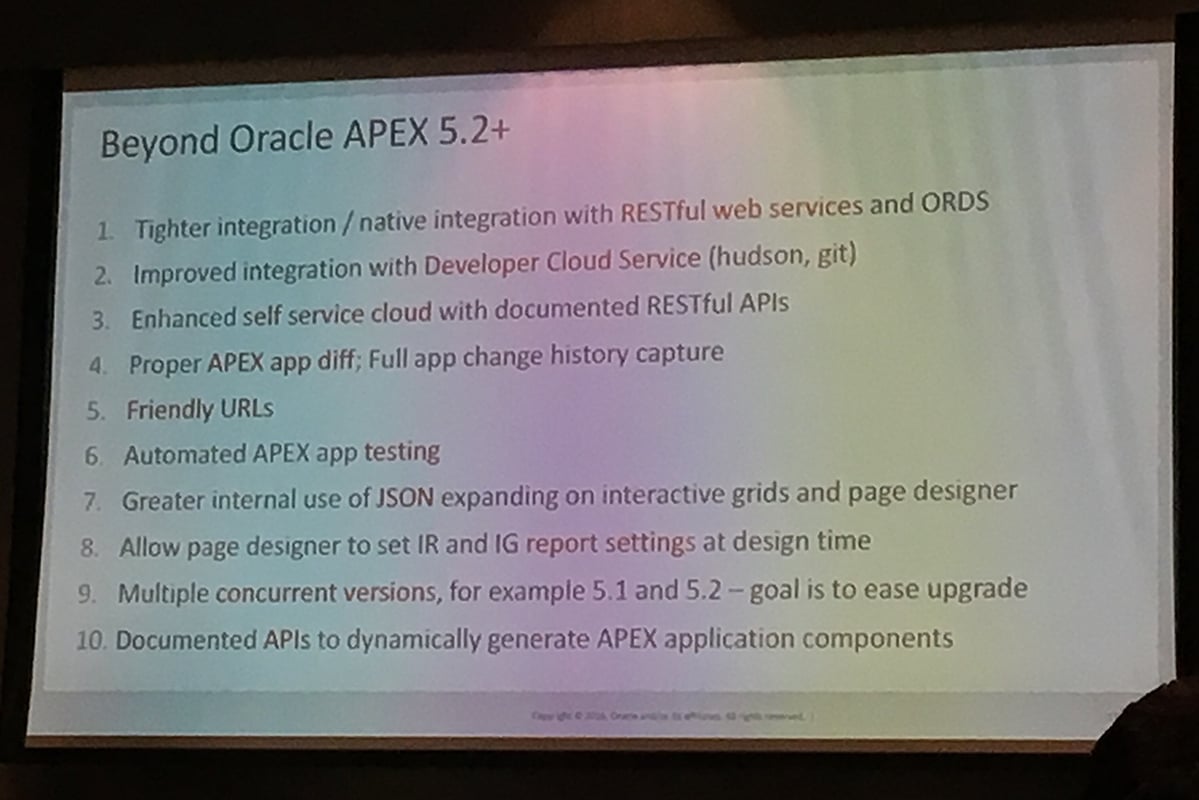 Summary
Now the dust has settled after the event and looking back, everyone from Explorer has said exactly the same in summary; "Really good event". And it truly was, it was very well organised, every presentation was well attended, the atmosphere was really good and everybody had something useful to contribute. Here is us looking forward to the next event!
---
Author: Paul Jones
Job Title: Oracle APEX Development Consultant
Bio: Paul is a Development Consultant at DSP-Explorer. Paul has a BSc in Computing from the University of Leeds and is now building on considerable experience in development and support using Oracle PL/SQL and Oracle E-Business Suite (EBS). Paul is employing APEX to provide quality, bespoke software solutions both internally and to a range of organisations.
---