Enterprise Resource Planning (ERP) is the classic enterprise application: complex, data hungry, and with a plethora of system integrations. It is these characteristics that can make it so difficult to manage, with most end users ultimately letting specialist managed service providers manage their ERP system for them. And as CTO of DSP-Explorer, a specialist managed service provider of database applications, that makes my head ache!
Like most CTOs I have been eager for Cloud to solve all my problems, and with OCI (Oracle Cloud Infrastructure) I'm getting the answers I've been waiting for. OCI is Oracle's second-generation Cloud and has all the functionality required to be viable for enterprise applications, unlike Oracle's first-generation cloud. And unlike AWS or GCP, if your application was not born in cloud, like most enterprise applications out there, then OCI has the security, integration, and performance that you need without spending more than you currently do on-prem. This is what I mean when I say OCI is enterprise application ready.
At OOW in January, Oracle cited at least 85% of their ERP customers are still on-prem, a figure which I believe is skewed lower than it is for the UK by the higher uptake in the US. My recommendation to these customers is this: if you are not ready for Fusion then lifting and shifting your existing applications to OCI is a great way to start benefiting from cloud, and this decision of course keeps the existing applications functionality unchanged which lowers the cost and risk of a move to Cloud too. This is exactly the strategy DSP-Explorer is taking with its customers where our Oracle consultancy team manage their Oracle E-Business systems.
Running Oracle Applications on Oracle Cloud Infrastructure really makes sense, and in our experience also works out cheaper than AWS. For example, I used DSP-Explorer's Oracle Cloud Calculator to very quickly model how much an example Oracle E-Business Suite system will cost in both OCI and AWS. As the example below shows, in this case the savings of Oracle E-Business Suite in OCI are over 60% when compared to AWS. I encourage you to model your own configuration using our Oracle Cloud Calculator – it only takes 30 seconds!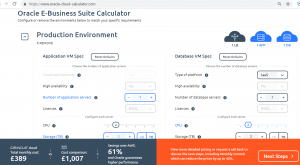 mmmmmmmmmmmmmmmmmmmmmmmmmmmmmmmmmmmmmmmmmmmmmmmmmmmm In terms of comparing functionality between Oracle and AWS, I like the article 'AWS vs Oracle Cloud Services: Compare Costs and Capabilities' from George Lawton on TechTarget. Lawton summarises as follows; "In the AWS vs. Oracle cloud debate, a high-level evaluation of the specifications and costs of various infrastructure services suggests that Oracle has a lead in price-to-performance for many services. Oracle also aligns well with enterprise needs when it comes to security and hybrid applications. In the long run, the Oracle cloud will prove a viable option for enterprises with a large installed base of Oracle applications."
I am also willing to bet that once a customer gets on to OCI the future promises even greater simplicity. Oracle E-Business Suite is already supported on Oracle's DBaaS and – although not yet stated policy – I believe it is likely to be on the roadmap for Oracle Autonomous Database compatibility.
That said, while OCI is solving many of my database application problems today, it may not be a stretch to wonder whether in the future it really could solve them all. For more information on Oracle OCI, or to get in touch with a Cloud consultant, visit the DSP-Explorer website or contact us directly.