Since the publication of our blog "The updated APEX 5.0 Rich Text Editor" which featured the Rich Text Editor in EA3 we have subsequently seen the launch of APEX 5.0 Pre-Production at apex.oracle.com
Whilst exploring the new features and differences between EA3 & Pre-Production; I again looked at the Rich Text Editor for any differences.
CKEditor 4 remains at version 4.4.6 although this is now the only editor available with both FCKEditor 2 and CKEditor 3 being removed in this version.
The Karma skin in EA3 is now renamed back to Kama and both the fantastic Moono skins are still available.
One thing I have noticed is that the default (Full) toolbar is shown over 4 lines with the 3rd occupied by just the "show blocks" option. Developers can relocate this option back to the second row by changing the "Width" under "Appearance" to 65. Similar width issues on the Basic and Intermediate toolbars can be resolved by selecting widths of 32 & 53 respectively.
Default (Full) toolbar shown over 4 lines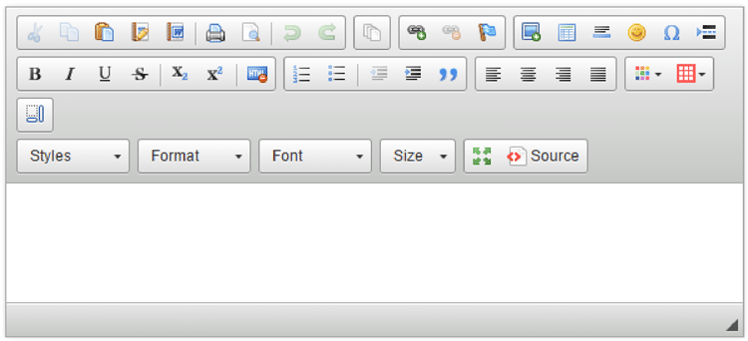 Also noted is the Maximize button which directs to a blank screen; hopefully minor issues such as these will be resolved in the official APEX 5.0 launch.
In terms of the available options within Text Editor; everything is the same as EA3.
Overall the updated Rich Text Editor item is a wonderful feature of APEX 5.0 and the new Moono skins complement the modern & efficient style of APEX 5.0.
---
Author: Matt Mulvaney
Job Title: Senior Oracle APEX Development Consultant
Bio: Matt is an experienced APEX solution designer having designed numerous complex systems using a broad range of Oracle Technologies. Building on his previous experience of Oracle Forms & PL/SQL, he is entirely focused on providing functionally rich APEX solutions. Matt promotes APEX as a software platform and openly shares best practises, techniques & approaches. Matt has a passion for excellence and enjoys producing high quality software solutions which provide a real business benefit.
---