What immediately springs to mind when the subject turns to Oracle Licensing? Do you feel a sense of pride in knowing your license assets inside out, or is it a touchy subject that brings up bad memories of long drawn out audits? Perhaps neither, and you're now hiding in a corner with the fear of the unknown since the Oracle police (A.K.A License Management Services) have never come calling.
Imagine this scenario: one day your CTO walks in and tells you an application is being replaced for a new one that doesn't sit on Oracle. Okay, you can decommission that server, but remember the rule of economies of scale. Since the more Oracle you purchase at once the cheaper it is, organisations tend to bundle in multiple Oracle technology products within a single CSI number to get a bigger initial discount. When you then ask for just one of these products to be removed, that initial discount could cause difficulties. This blog will walk you through the world of Oracle licensing and how best to avoid getting into difficulties with the LMS.
Like most challenges in life, Oracle licensing is not something that can be simply brushed under the carpet and forgotten about. I've been selling Oracle solutions and services within the I.T industry for the last 13 years. In that time I've seen a lot of change, but one prevailing constant is this: when it comes to Oracle they, like other tech giants, are geared towards protecting their IP. Oracle users must remember the fundamentals. As harsh as it sounds it's YOUR responsibility to ensure your Oracle deployment is licensed correctly and in line with THEIR rules. The good news is you can always seek help from Oracle Cloud consultants like DSP-Explorer.
Things of value are often given routine checks by specialists: cars, boilers, watches, our health from time to time. So why is it that many organisations don't do the same with their Oracle software licensing estate? Understanding your black and white position can help you to avoid dreaded unbudgeted software fees, while understanding your Oracle deployment will ultimately put you one step ahead in future-proofing your investment in Oracle. It's true, Oracle Cloud is coming, and I'm not talking about a wet summer! If organisations don't know where and what type of Oracle core technology they have deployed, or how much of it they are dealing with, it becomes difficult to plan and budget a soon-to-be vital move to Cloud Infrastructure.
Many of the audits I have been involved in throughout my career could have avoided unfavourable resolutions had the end user hired an expert like DSP-Explorer to check under the hood every now and then. It's worth remembering that anyone with a "My Oracle Support" (MOS) account can download and install Oracle software onto a machine, and that the goalposts can move as hardware vendors bring out newer servers with even more Cores. My advice in simple terms? Even if you think you have a good handle on your Oracle software grants and where they are assigned to you, you should still consult a third party like DSP-Explorer at least every 12 months to get a License report for the filing cabinet.
Regardless of whether Oracle License Management Services come knocking, it's good practice to "baseline" your Oracle licensing position. Occasionally the outcome can even help mitigate against increasing your TCO of running Oracle. Many companies buy Oracle annually and in line with Oracle's end of quarters, with the end of May being the most popular, closely followed by end of February and November. This leads to multiple Customer Support Identifiers (CSI numbers) against multiple contracts, which would be shown on yearly Oracle Support renewals.
Analogy time: imagine a shop is selling tins of tomatoes for 20 pence per tin, but they have an offer for 100 tins for half price. They now cost 10 pence per tin making it an investment of only £10 instead of £20.
You store all 100 in a cupboard and over time use 50 of them. You then change your recipe; you still need some, but not all, of the 50 tins. You go back to the shop to give 10 back and ask for your 20 pence per tin back, as that's the advertised sale price. Now the shop keeper will only give you 5 pence per tin since you've had them a while, meaning a refund of 50 pence against an initial cost of £1.
How does this link to executing the request from your CTO? When the time comes to remove specific technology products that you no longer have use for, you may find that Oracle could recalculate the support renewal price, since you initially received a discount for purchasing multiple products at once. When it comes to removing some products against that CSI number, don't be surprised if your yearly support renewals become MORE expensive to maintain.
Understanding how your technology is mapped to your license grant will help you to make informed decisions regarding the future of the estate, whether you are staying put, moving to modern hardware on-premise, or migrating to a Cloud Infrastructure provider such as Oracle, AWS, Azure or Google. The one thing to take away from this blog is be one step ahead. Don't wait for that letter from the LMS before taking action, or that phone call from the business with the news a massive transformational project is on the horizon. To cover yourself as fully as possible, find a consultant who understands the nuances of Oracle Software Licensing – and if you want your Oracle Managed Services & Professional Services taken care of too, DSP are the ones to call!
Oracle Licensing On-Demand Webinar
Missed our latest Oracle Licensing Webinar? Well have no fear, the on-demand version is here! Discover the basics of Oracle Licensing: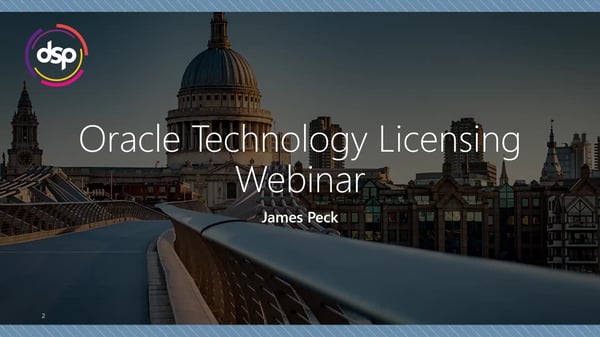 Click here to contact DSP-Explorer or visit our website for more info about our Oracle Licensing services.