Selecting and managing your Managed Service Provider (MSP) is critical to slick business operations and success in the cloud. With many alternative options available, I want to outline what I see as the key aspects to consider, to ensure your MSP can and will deliver for you.
---
Top 3 tips to get the most out of your Managed Service Provider
Tip #1 - Align yourself to an MSP who can demonstrate continued investment in their internal processes and people, broadening their skill sets. Ask that the MSP can evidence their skills and put faces to names – even if they are sub-contracted. Look for those that are investing in their service delivery – what ITSM tools do they use, how do they monitor the environment(s) and what systems and personnel resilience do they have in place?
When selecting a cloud MSP, it's also important to ask questions about yourself and your organisation.
Tip #2 - The top 5 questions to ask yourself before talking to an MSP:
What are we really trying to achieve? (Hint: 'Moving to the cloud' is not the right answer!) What is actually motivating the change you're looking for?

What is your skills matrix like? Be clear about where your gaps are and where you need support.

Who is going to benefit from working with an MSP? How are they going to benefit and can you quantify it?

When are you going to see this change make a positive difference? What challenges do you have internally to overcome them (remember, no one likes change!)?

How long will you need help? Speaking as an MSP myself, this really helps me see that a CxO has a long-term plan in place and is not just looking at the here and now!
To expand on the last bullet above re. longevity this is something I talk about with potential customers a lot. I think it shows how modern, proactive MSPs can really distinguish themselves from those who have failed to evolve. In essence, I tell them 'If we're still working together in the same way in 2 years' time, both of us have failed.' I visualise it like this.
Figure 1: The traditional MSP erodes over time, offering less value, as the client becomes more mature in their cloud adoption and services transition back in-house.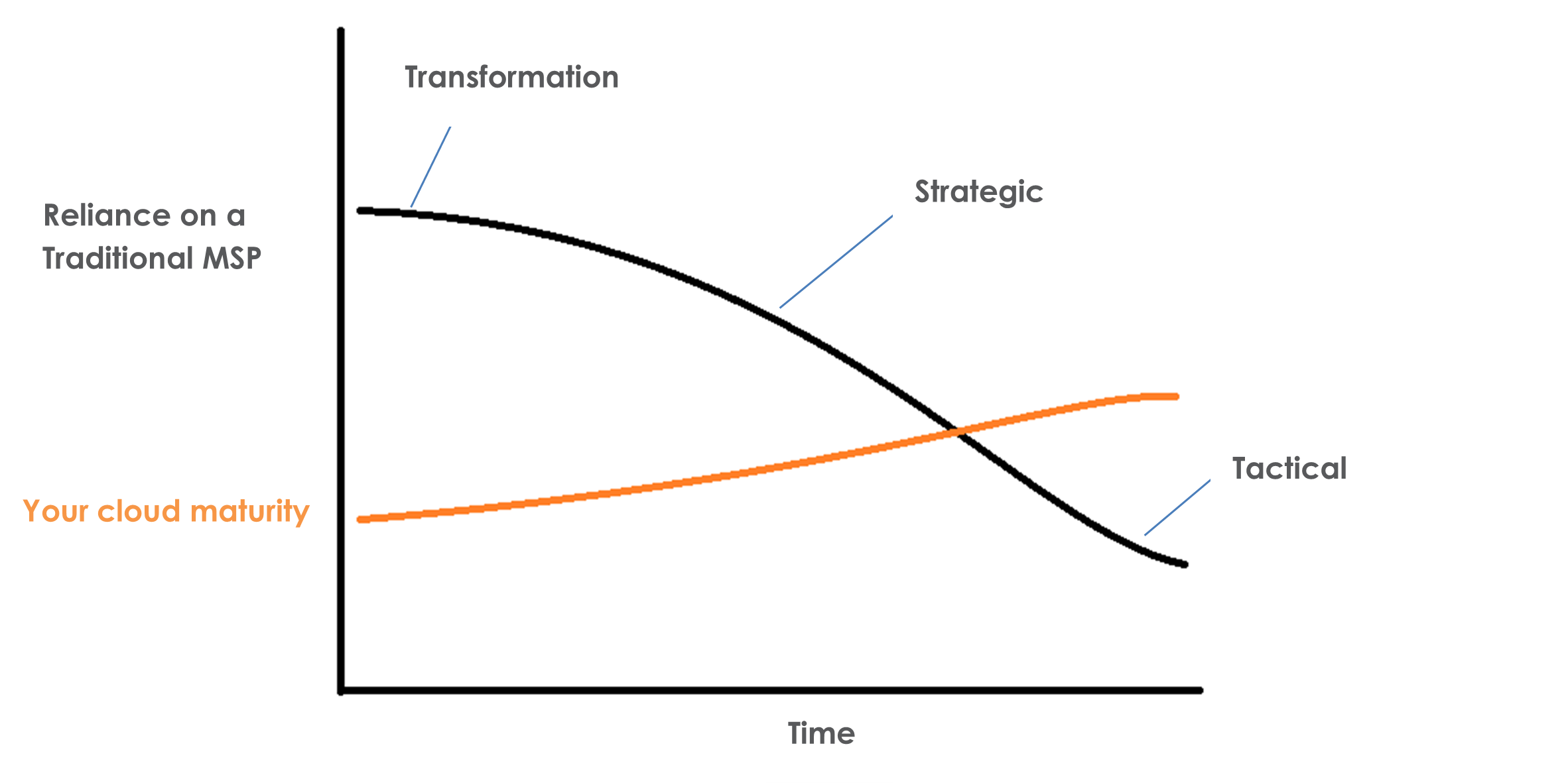 Figure 2: The role of a modernised MSP evolves over time. The client becomes more mature in their cloud adoption and services transition back in-house, whilst at the same time, innovation and insight is delivered via the MSP. In this model, we see a wave of interaction and 'value' over the same period.

The reliance on MSP services (consulting and managed service support) is going to be high in the first 12 months or so. There will be a lot to get through! The design, implementation, and go-live phases might only be a few weeks or months, depending on the size of the project, but you'll probably still need your MSP for support thereafter. As time goes on, you should start to see a transition of skills, knowledge, and experience to transfer some or even most of the 'MSP value' to your teams.
This doesn't mean, however, that the partnership comes to an end – it should mean that the MSP is evolving their delivery and value – bringing new insights, innovation and ideas, rather than a merely 'lights-on' traditional MSP.
Tip #3 – Tackle all of the above in bitesize chunks. By migrating smaller workloads to cloud we are able to prove the value and enhanced performance. It also gives you a chance to work with an MSP before fully committing to a big project. Check our Oracle Cloud Bitesize programme to learn more about how we tackle this…
If you'd like to understand more about our innovative, industry-leading, database managed service offerings read more about our Oracle Managed Services or our SQL Server Managed Services. Alternatively, for further reading discover The Benefits of an Oracle Managed Service.

Want to talk to one of our experts? Book a free consultation today.