Oracle Engineered Systems are proven to solve problems with business critical applications and Databases, with a range of systems designed to address different technical challenges. Some call it converged infrastructure but the biggest difference to appliances like Nutanix, FlexPod and Vblock is that the OS and Software are engineered with the infrastructure in mind. This is only possible when a vendor owns the full stack of technology from Applications to Disk to unlock a myriad of benefits hidden within all this intellectual property.
The systems fall into these 3 categories of benefits, which basically cover off the most frequent challenges Oracle customers are facing;

So which Engineered System is right for you? At time of writing there are 11 Engineered Systems products (and even then I bet I've missed one), each with different sizing entry points and models to take the number to well over 100 different permutations. There IS an Engineered System suitable for the smallest of Oracle SE customer to the largest international corporate. I'm only going to focus on 5 of the 11, purely for simplicity. These are:
Exadata
Database Appliance
MiniClustert
SuperCluster
Private Cloud Appliance.
Exadata
Exadata is Oracle's flagship Database-centric Engineered System designed for extreme performance; coming from Exadata-specific optimizations, including Smart Flash cache, Smart Scan, Hybrid Columnar Compression (HCC), Flash Storage and InfiniBand networking for low latency, high bandwidth data transfer. Available in eighth, quarter, half, and full rack configurations with a choice of high capacity or flash storage, Exadata is especially well-suited for demanding OLTP workloads, in-memory workloads, large-scale database consolidations and multi-rack data warehouses.
Oracle Database Appliance
There is actually a family of ODA's ranging from single node to a High Availability models; each of which designed to run all Editions of the Oracle Database in bare metal or virtualised deployments. Each ODA is a self-contained appliance of Compute, Storage, Networking and Software to create an alternative to commodity infrastructure at a sensible price point for customers looking to consolidate, improve performance and reduce licensing costs.
MiniCluster
Oracle MiniCluster is an Engineered System designed to run both Applications and Databases and address data security requirements such as PCI-DSS. All the usual features and benefits of Engineered Systems are included with MiniCluster; Capacity on Demand, High Availability, Virtualisation & Flash Storage. A feature called "Virtual Assistant" is the key to its simplicity; automating administration tasks, reducing operational cost, full system patching, rapid provisioning and automated performance tuning. With greater performance, security controls and flexibility over the Oracle Database Appliance, the MiniCluster sets the benchmark in these areas for organisations looking for a "security first" solution.
SuperCluster
The big brother to the Mini Cluster and designed to address the same performance and scalability demands that Exadata achieves. The fact that SuperCluster is a system that accommodates both Applications AND Databases means that it's a more versatile platform with all the same Exadata features such as Smart Scan, Hybrid Columnar Compression and Smart Flash Cache. As SuperCluster is built on a SPARC and Solaris platform it's also the industry's most secure platform.
Private Cloud Appliance
The Oracle Private Cloud Appliance is an Engineered System designed to simplify the installation, deployment and support of Oracle and non-Oracle Application and Database workloads on a guest OS. Built with Virtualisation and scalability in mind, the PCA is a solution for organisations that are looking to consolidate general purpose workloads and virtualise each environment to drastically reduce infrastructure and operational cost. OVM is Oracle's license free VM software and is at the core of the Private Cloud Appliance. By using OVM, organisations can slash the cost of Vmware support or even remove it completely whilst still benefitting from the core principles of Virtualisation. Another benefit? Remove the risk of non-compliance that many customers find themselves in by deploying Oracle software on Vmware Virtual Machines.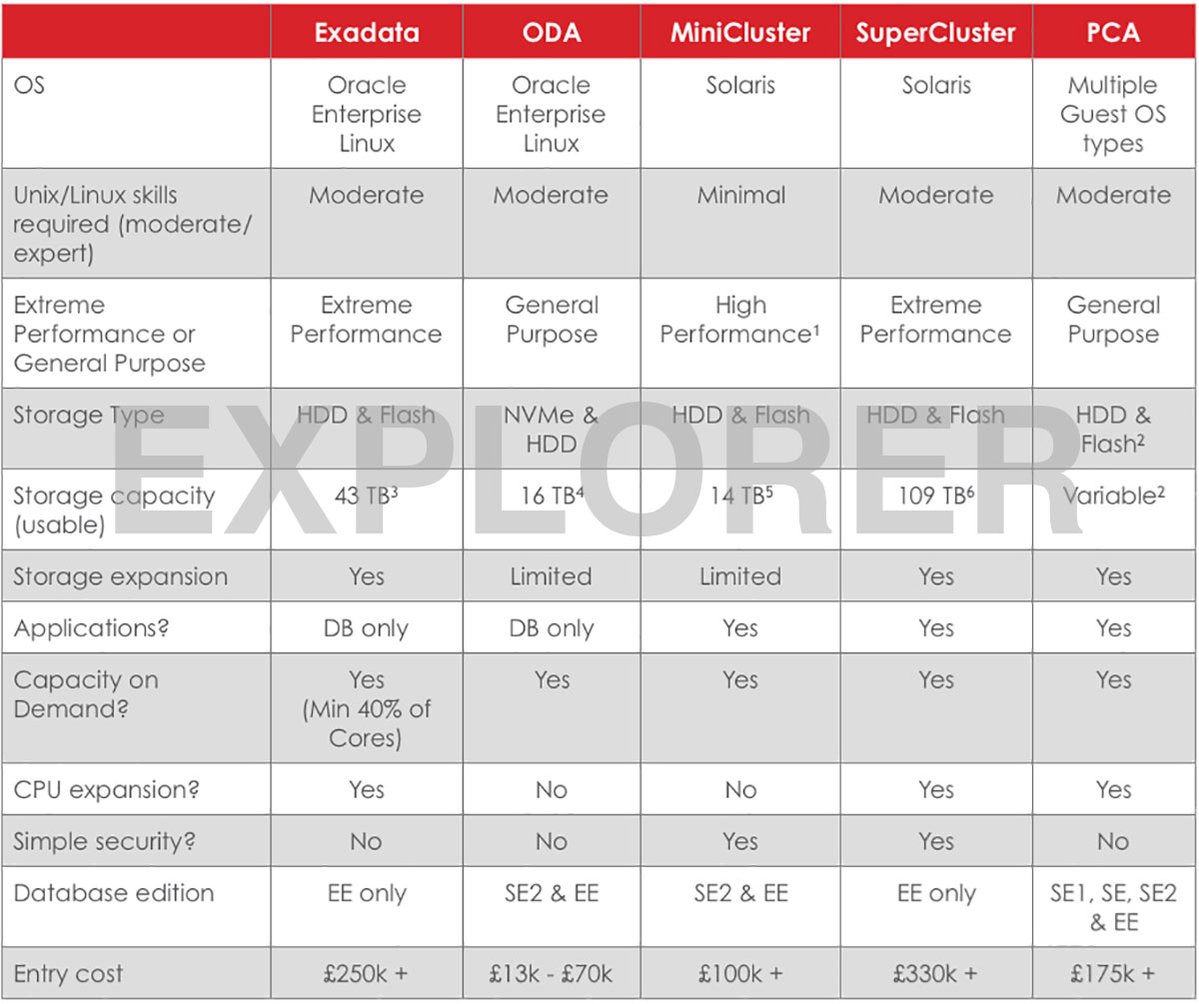 Use this feature matrix to help drive you towards an Engineered System that meets your requirements and preferences.
Whilst the MiniCluster is classed as high performance, by nature of the SPARC chip type (S7-2) performance will be significantly better than commodity infrastructure.
PCA can use existing customer storage resources or additional ZFS storage arrays.
Based on Exadata 1/8th Rack High Capacity configuration with high redundancy disks.
Based on ODA HA X6-2 configured with additional storage expansion shelf and triple mirroring disks. 8TB for single storage shelf.
Based on Database only storage and additional storage shelf with redundancy.
Based on minimum rack configuration with high capacity disks and taking into account ASM redundancy.
Should any of the Engineered Systems product portfolio be of interest to discuss further (technically or commercially), we are in a position to provide insightful advice and guidance on how to leverage these systems to solve your business and infrastructure challenges. Contact a member of the Engineered Systems team to discuss further.
---
Author: Jon Lingard
Job Title: Practice Director
Bio: Jon is a member of the Oracle sales team and works with customers from start-ups, SMEs to large corporations to gain maximum value from their investment in Oracle technology. Jon works with the technical and development teams to shape solutions based on customer demands and develops long lasting customer relationships based on his open and trustworthy approach.
---