CEO Simon Goodenough nominated in the LDC Top 50 Most Ambitious Business Leaders list!
DSP's CEO has been added to the prestigious list of entrepreneurs changing the face of UK industries in 2019.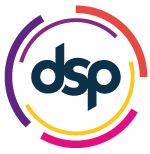 It's been an award-winning month for DSP and the results keep on coming - this time on a personal note for our CEO, Simon Goodenough, who has been named as one of the LDC Top 50 Most Ambitious Business Leaders 2019!
This nomination comes off the back of the surge of development seen within the company since he took the helm in 2015. As LDC's article on his work details, "In 2015, he took over as CEO and has since delivered a 400pc rise in profit by investing in innovation, making acquisitions, and "taking a few risks"." You can read their full article here, but with DSP's expansion into second and third offices in Basingstoke and Nottingham, as well as multiple new hires and tentative steps into the world of Data Analytics (see the first fruits of that here where we used Oracle Machine Learning to predict the winner of the Rugby World Cup), it's come as no surprise that Simon's efforts are being recognised.
Simon's name is nominated under the 'Ambitious Partnerships' segment of LDC's Top 50, and as such the article addresses the importance of acquisitions between small and mid-market businesses, and the CEO's history in the IT industry. Alongside these illuminating segments, in which the motivation behind his successes is also addressed, Simon's future plans for DSP certainly appear to be bright.
As well it might, since DSP has made its name recently as the only Oracle MSP and Microsoft CSP in the UK, and more broadly as home to a magnitude of in-depth technical expertise with numerous Oracle and Microsoft accreditations under the company belt.
Now nearing the end of 2019, the firm continues to invest in exciting new directions - including branching into the US market - and shows no signs of slowing down under Simon's guidance, even with a significant birthday on the horizon. This November, DSP will have been running for 20 years strong.
According to the LDC website, those who qualify for this prestigious list "are the leaders that inspire others through their sheer determination, grit and vision." To see the rest of the this list, and keep an eye out for the announcement of the overall winner, head over to https://top50.ldc.co.uk/.
To learn more about DSP and what we do, including the wide variety of Oracle and Microsoft solutions that we offer, please do browse the website or contact us at www.dsp.co.uk/contact-us.