How cloud is increasing profits by 22% for the Manufacturing sector
In recent years, the manufacturing industry has been at the forefront of delivering successful cloud adoption and implementation. In this article, we identify what's been driving manufacturing success, shine a spotlight on key drivers and highlight underpinning solution to working smarter.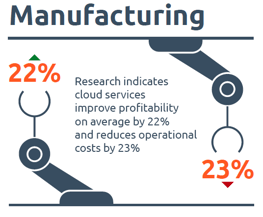 With advances in technology over the last five years, digital transformation has gripped the industry in ways unforeseen ten years ago – and it's quickly becoming apparent that those who can't or don't want to manage change will quickly succumb to competition with lower production costs and better margins.
Delivering insight into what is and isn't happening throughout the production environment is essential. Developments in technology, both from a hardware and software viewpoint is giving management 'End-to-End Visibility' and the ability to make informed decisions and react instantaneously.
In Modern Manufacturing, it's essential to monitor and control at every step. Just like the Uber's of this world, manufacturers need to be tech savvy and control the data flowing through their business with ease.
Manufacturing challenges of today
The challenges manufacturers face, are the same today as they've always been. The difference is that solutions are becoming more complicated. Modern business environments now include cloud, mobile, and big data. All of which deliver production visibility and integration, directly impacting profitability.
We've identified the following challenges, key to modern manufacturing success:
Visibility and agility
Modern manufacturers require a more visual, easy-to-use interface so users can get the information they need, sooner. Complete visibility also encourages more insightful decision-making, as with real-time views that offer visibility into work orders with serialized-enabled manufacturing.
Cost and profitability.
Too many resources with too much risk keeps manufacturing from being the efficient organisation the business needs them to be. Cloud computing boasts an average improvement of 22 percent in profitability and an average reduction in costs (attributed to optimised manufacturing operations and planning processes) of 23 percent.
Collaboration and innovation
Organisations can no longer afford to have manufacturing silos for processes and information. An end-to-end, integrated solution lets you collaborate, connect, and share solutions with others in the organisation and across the supply chain, providing an interconnected, unified series of events that span the extended enterprise, your business partners, and your customers.
Three solutions underpinning manufacturing success:
1) Data Modernisation
With data being a strategic asset, it's now used to transform manufacturing processes and uncover new insights on an ongoing basis. Questions need to be asked about making data accessible to the entire business in real time, and not just on an application by application basis.
By modernising your data platform, manufacturers can unlock valuable insight while reducing IT costs, improving production and increasing agility. An effective data platform modernisation project factors in a combination of architecture refresh, together with software upgrades and targeted application remediation to deliver a platform that delivers optimum TCO, business performance and business innovation.
It's rare that a Data Platform Modernisation doesn't include any element of cloud, read more here.
2) Database-as-a-Service (DBaaS)
DBaaS's exponential success continues and the reasons are quite simple. As well as freeing up time, DBaaS enables businesses to deploy new databases quickly, securely, and at low costs.
Alongside Data Backup, Test & Dev and DR - DBaaS can be one of the first times a manufacturer starts to harness the benefits of cloud and cloud compute - reducing costs, improving agility and increasing stability.
Further reading on how DBaaS can revolutionise businesses.
3) Transition to cloud
Manufacturing is one industry that has embraced cloud speedily and profitably. Cloud-based systems have proven quicker to roll out and easier to customise, and are dramatically saving on costs. But the real story is that cloud plays directly to two of manufacturing's sweet spots: keeping production running, and accelerating New Product Development.
There are numerous advantages to the sector of using cloud services, which include the following:
Increased reliability, flexibility, scalability
Better, more intelligently connected IT environments
Cost saving through infrastructure and support on-demand
Enhanced security and privacy of data
Reduced requirements internally for infrastructure and personnel
An empowered mobile workforce: data available anytime, anywhere on any device
Better architecture and design means easier configuration and updates