I have already looked at the fact that APEX is a perfect replacement for Discoverer in an earlier blog post and that inbuilt tools such as the powerful APEX interactive report give an update to what can be done with Discoverer. The fact that your developer can write one report, hand it to ten different people and they can use it in ten different ways is incredibly powerful. The need for development every time a report is required is removed and this is a time and cost benefit for every business.
Added to that is the fact that administration and the need for client installed applications are also minimised as the administration is much simplified compared to Discoverer and the reports will all run in a browser. This also unties your business from having to build machines which will work with the current client install of Discoverer.
Some businesses may just want to use APEX for basic Discoverer style reports but by using APEX they gain the massive benefit that APEX is fully supported and continues to be updated by Oracle as a fundamental Database development tool, which is no longer the case with Discoverer.
Discoverer Report

APEX Classic Report

As you can see from the above images the familiar reporting style can still be utilised in your business, whilst also leveraging lightweight web browser deployment. This provides a solid platform to enhance your operational MI and dashboard reporting requirements.
There are however a lot more businesses that want more from their reporting solution and the ability to do things such as produce printed collateral, formatted emails and dashboards from their data and this is where the technology gap occurs.
What do I mean when I refer to the technology gap? I am referring to the fact that until recently the requirements above could only really be met by moving to something like Oracle's OBIEE product. Oracle Business Intelligence Enterprise Edition is a great product for strategic and predictive data intelligence but many of its features are just not required by many businesses looking to progress and move on from Discoverer. Often the fact that a business is still using Discoverer and has not moved to OBIEE is an indicator that this realisation has come and a decision made.
This then leaves organisations stuck with a product which is either out of, or soon moving out of, support with no obvious alternative promoted by Oracle. This lack of promotion amongst many Oracle representatives leaves some organisations looking at other reporting solutions but these can be costly, hard to configure and not optimised for an Oracle database environment.
There is a solution to this "gap" however and the answer APEX, integrated with BI Publisher. Why is BI Publisher even needed? The issue with standard APEX reports "out of the box" is that they don't look as aesthetically appealing as they could potentially look. Luckily however this isn't a case of "what you see is what you get" because APEX reports are extremely customisable – This is where the integration to BI Publisher comes in as it allows customisation of your data output meaning reports can be branded, text formatted and logo's added.
You can go from a standard printed APEX report: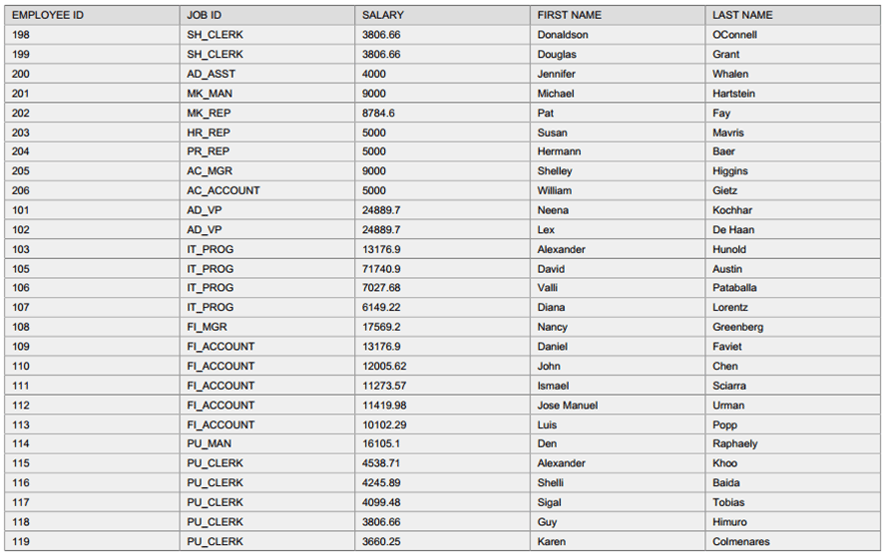 To formatted material which could be used in any number of situations and over which you have full control: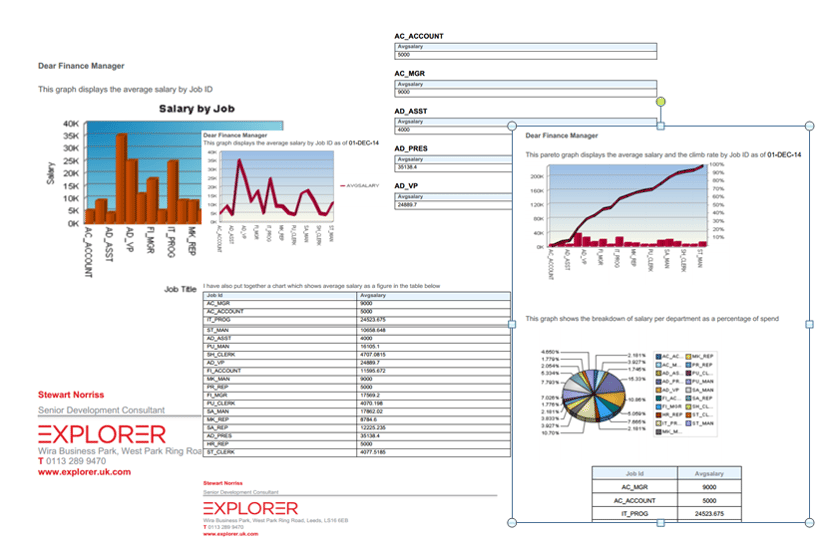 Signatures can be added, graphs from derived values used, formatted tables based on conditions and basically anything that you might want to add into a report output can be produced.
There are also some other massive advantages of using BIP with APEX. For example, printing is seamlessly handled and integrated into APEX, it is easy to extract from multiple data sources and report bursting is supported to allow splitting of reports with multiple delivery mechanisms. This means that with the click of a button you can easily send multiple formatted emails to as many recipients as you require with no further interaction needed. All of this is enabled easily and seamlessly as it leverages native Oracle technologies to talk to your Oracle database using fully supported methods.
This then shows why APEX and BI Publisher are genuinely an ideal match, bridging the gap between Discoverer and the high end multi-faceted tool that is OBIEE. By using APEX and BIP you enable your business to bring a low cost, easy to deploy, simple to manage, fresh and modern approach to the production of data reports and formatted collateral, which can be distributed how you choose. Your business does not have to look at trying to use none Oracle reporting tools with your data, thus simplifying support and development – OBI EE is not your only choice! Finally it puts the control and power back into the hands of your business using a cost efficient, straight forward and powerful solution, which you can utilise however it suits you.
---
Author: Craig Sykes
Job Title: Senior Oracle Development Consultant
Bio: Craig is a Senior Development Consultant at DSP-Explorer. Craig has an MSc in Computing Science and is an experienced software engineer, utilising development tools such as PL/SQL and APEX to provide bespoke ERP software to both UK and international businesses. Craig has experience developing solutions to connect Oracle systems to a wide range of existing external applications within business environments.
---