After watching a webinar about Oracle Forms and the prospective future of this tool, I came to realise that unless you are on the current latest and greatest version there is limited support (no Premier or Extended support), from Oracle, for the earlier versions of Oracle Forms. This begs the question "is time running out for your Oracle Forms environment in terms of support?" Therefore, I thought I would highlight what releases have what support for those of you who are using Oracle Forms.
Middleware
In terms of the middleware tier, that Forms is a part of, at the time of writing (September 2019), the only version that is currently covered by Premier or Extended supported is the latest Fusion Middleware 12c release (12.2.x). Premier support for this release currently runs up until August 2022 with Extended support ending in August 2025. So if you are on this version, your Oracle Forms environment will be supported for at least 3 years.
The one caveat to this is that if you have Extended support on release 12.1 x then you have support for a few months with that ending in December this year (2019). Below is a table taken from the Oracle Lifetime Support Policy for Oracle Fusion Middleware that shows when the support for previous versions ended. (A link for which is at the bottom of this blog).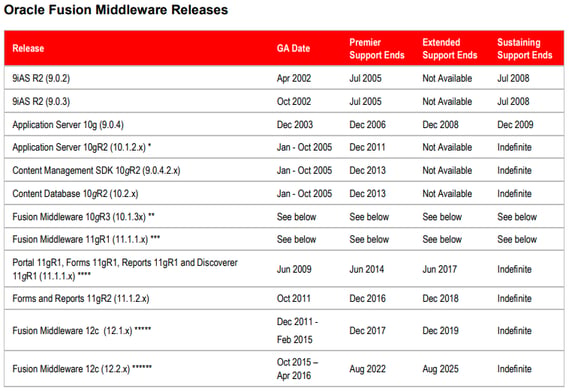 Image take from Oracle Lifetime Support Policy for Oracle Fusion Middleware Guide – June 2019
This means all other versions of Oracle Fusion Middleware and Oracle Forms either are no longer supported or are under the Sustaining support model, meaning you can no longer get security updates, new features, bug fixes or new platform certifications
Java for Oracle Forms
On top of the fact that most Oracle Fusion Middleware releases that include Oracle Forms are out of Premier or Extended support, there is the support for Java Deployment Technology releases that need to be taken into account. As with Middleware releases, there is currently only one version of Java for use with Forms that is also covered by both Premier and Extended. That is Java 8 Web Start, which is what is recommended you use. Java 8 Plugin/applet is no longer supported by either Premier or Extended support. This means if you are running Forms embedded in a web browser using Java applets then support has ran out. Again, here is the table of support dates for Java that comes from the Oracle Lifetime Support Policy for Oracle Fusion Middleware. It shows Java 8 Web Start currently has Premier support until March 2022 and Extended support ends March 2025. Java 11 has Premier and Extended support running beyond the support of the latest middleware release, ending September 2023 and 2026 respectively.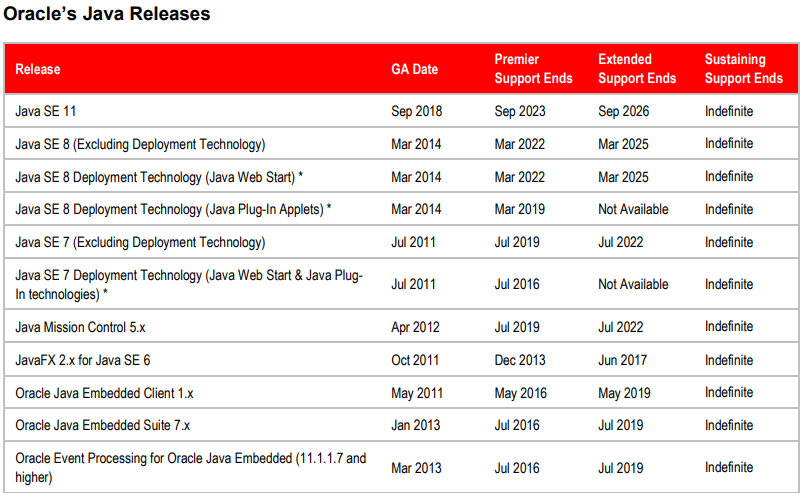 Image take from Oracle Lifetime Support Policy for Oracle Fusion Middleware Guide – June 2019
It is planned that when version 12.2.1.4 of Oracle Forms is released, this will start to support the use of the latest version of Java (Java 11), which is currently covered under Oracle's Premier and Extended support until September 2023 and September 2026 respectively. However, this will only be with Forms Standalone Launcher.
So, when I said at the start is time running out in terms of support, well it already has if you are not running the latest middleware version. And with only a few years until this support ends for the latest version it will be interesting to see what happens with Oracle Forms in the future.
A little side note to this is that Oracle has now deprecated Oracle Reports as of release 12.2.1.3, meaning any future release of Oracle Forms will now come without Oracle Reports. I will have a blog regarding this and the options you now have for reporting engines in future out soon.
Support Policy Link
Oracle Lifetime Support Policy for Oracle Fusion Middleware Guide – June 2019 –https://www.oracle.com/us/assets/lifetime-support-middleware-069163.pdf
---
Author: Gavin Bell
Job Title: Development Consultant
Bio: Gavin is a Development Consultant at DSP-Explorer. Having attained a BSc in Computing he embarked on a career working with Oracle technologies and specialising in SQL and PL/SQL programming. In previous roles he has worked with Oracle Forms and Reports (v9-12), Oracle Retail (v13) and APEX (v4.2-18.2). Here at DSP-Explorer he is part of a highly skilled development team providing APEX development solutions and training to both UK and international businesses.
---