DSP-Explorer are Oracle Digital Winners!
Oracle UK & Ireland Partner of the Year Awards 2020

At the Oracle UK & Ireland Partner of the Year Awards earlier this month DSP were shortlisted for two awards and announced as the winners in a third category, Oracle Digital (OD) Partner of the Year 2020!
We are immensely proud of these achievements; they are a testament to the time and effort put in by the DSP team. To be nominated for Autonomous PotY and OCI PotY in addition to winning the Oracle Digital category further shows the diversity and quality of our services.
Over the past year we have begun to explore how the use of Machine Learning could benefit our customers, whilst upholding our commitment to continually excel in our core service areas. It is clear from all 3 nominations 3 that our Manages Services provision and Cloud expertise is sharp as ever.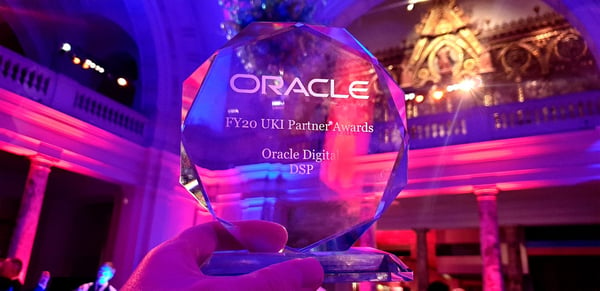 DSP-Explorer's nomination in the category of 'Autonomous Partner of the Year' showcased our recent specialisations in ADW, our development of the Autonomous Data Warehouse Bitesize programme, and the expanded capabilities of our AI / ML / BI consulting services.
The Bitesize programme offers customers the chance to be educated on ADW and to have DSP-Explorer implement a bitesized installation of Autonomous Data Warehouse for their organisation. We will address any particular concerns for that client in the first stage and provide technical support throughout. For more information, go to Oracle Autonomous Data Warehouse Bitesize.
The second nomination DSP-Explorer received, for 'OCI Partner of the Year', equally spoke of the fantastic work put in by our expert team to receive several OCI specialisations over the past year and of course to develop the Oracle Cloud Calculator.
Case studies such as Stripe Global's 'move and improve' OCI migration, in which we helped Stripe to modernise their estate, attest to the care we take in making sure that our customers receive bespoke solutions. In this case, a migration to OCI and a complete MSP wrapper ensured the security of their estate and, critically for the client, minimal downtime.
Thanks again to Oracle for hosting the UK & Ireland Partner of the Year Awards 2020, a great night was had by all. Until next year!