Migrate Applications at Your Own Pace
Understandably, every business will be different in terms of application migration. For some, the cost and disruption look prohibitive, while security is the main concern for others. With Oracle Cloud, you have the predictability of a cost-effective subscription model that enables you to "lift and shift" your applications to and from the cloud. No disruption, no hassle.
Thinking of migrating your applications to cloud? Discover the risks and rewards of migrating your applications to cloud providing easier management & faster performance: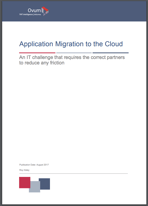 Flexibility - A fully integrated platform enabling you to work at your own pace with a wider range of services as your cloud journey continues.
Intergrated platforms - IaaS, PaaS, or SaaS

– providing the ability to begin with development/testing and continue to production deployments of business applications.

Credibility - A history of delivering performance and scalability for enterprise workloads becoming critical selection criteria.
With an established pedigree in application management services, moving databases to the cloud comes naturally to our DBAs. By choosing dsp as your independent database cloud partner you are selecting a company that not only specialises in deploying and automating Oracle, but that can help you decide whether migrating to the cloud is actually the right decision for you.