Oracle DBaaS Cloud - How You Benefit
Essentially, every business requires an ideal route to the cloud tailored to their needs. That said, how do you choose the right cloud provider?
To start, identify a service that can be adjusted to adapt to any of your requirements, has the ability to develop with your business and, of course, is secure enough for all your data. Oracle's DBaaS offers the opportunity to provision database services in a fraction of the time it currently takes now - the support to migrate dynamic workloads with least possible excess capacity restoring real efficiency.
Once you move your databases to Oracle Cloud, the tangible benefits show almost immediately. You'll also get access to state-of-the-art Oracle database technology like super-fast in-memory analytics. It also helps you cut TCO by 50% by reducing (or even eliminating) hardware costs, automating manual provisioning, and metering so you can charge back services to users. Talking of users - they benefit too with agility that enables innovation and faster response to customer needs. Everyone wins!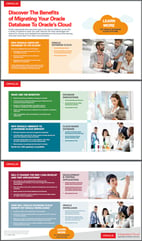 If you are considering migrating to DBaaS, continue reading to discover the benefits of moving your database to Oracle Cloud, including how to:
Minimise hardware fees and management troubles
Shifting between on-premises and the cloud in a short time
Swiftly provisioning entire application environments
We agree that deciding whether the features are ideal for your business can be fairly difficult and that's why dsp are here to help guide you in the right direction. Feel free to ask us any questions you have on making your journey to the cloud easy and identify how beneficial it can be for your business.