5 crucial benefits for Oracle Users migrating to Oracle Cloud
With cloud innovation escalating, most organisations are looking for creative ways to gain competitive advantage in their chosen marketplace. In terms of dev/test and deployment concepts, companies are bogged down by costly, time-consuming, and troublesome environments that can delay the development process.
Every business requires an efficient route to migrate to a cloud tailored to their needs. The Oracle Cloud Database Service is compelling: in almost every test, Oracle database on Oracle engineered systems is faster, more resilient and actually more cost effective than Oracle running within any other Public Cloud.
Oracle offers several DBaaS deployment choices. A long time Oracle Platinum and early recipient of the Oracle Cloud Excellence accreditation, DSP has the capacity and experience to guide you through these choices. With a unique suite of Cloud Database migration tools we can help you plan your migration, starting by agreeing the cost and capability level suitable to your infrastruture, then examining growth cases.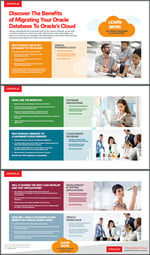 Everyone's journey to the cloud differs, that's why we're here. DSP will help you investigate the many advantages and options for moving data and applications to the cloud, whilst learning exactly what sets Oracle apart.