Discover The Benefits of Migrating Your Oracle Database To Oracle's Cloud
Today, Database-as-a-Service (DBaaS) continues to persist in giving companies a leading competitive edge. DBaaS is a cost-effective way to experiment with minimal disruption to your normal operations. When you move your databases to Oracle Cloud, you can show tangible benefits almost immediately. You'll also get access to advanced Oracle database technologies like super-fast in-memory analytics.
Are you considering DBaaS? Discover how DBaaS provides easy management & performance by: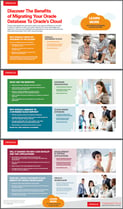 Reducing Labor Costs –

DBaaS reduces the need to hire on new staff. When you choose this solution, essentially you are hiring a whole team of security, back-up, deployment, and maintenance experts.

Innovative Solutions – U

sing platforms that accelerate data science, data innovation, and closed-loop systems of insight.

Use It and Move It –

Complete the testing and development stages of your database on a public cloud, and easily move it onto a more permanent system once you're ready for deployment.
We understand that everyone's journey to the cloud varies, so we are here to offer a variety of options to help you reach your goal. DSP can help you discover and understand the many advantages and options for migrating one's database and applications to the cloud, whilst learning what sets Oracle apart from other cloud providers.