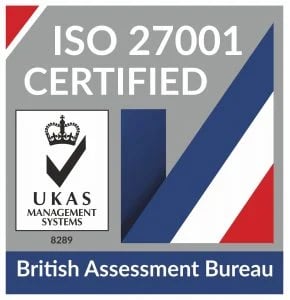 Leeds based Oracle Platinum Partner has achieved certification to the internationally recognised ISO 27001:2017 standard, establishing it as one of the leaders in its field.
This independent assessment was conducted by the British Assessment Bureau, a leading Certification Body, and demonstrates Explorer's commitment to keeping their data, staff and premises secure.
Explorer has now earned the right to display the coveted British Assessment Bureau quality shield and ISO 27001 logo to demonstrate its conformance to the standard.
ISO 27001 is the internationally recognised Information Security Management Standard that proves an organisation's commitment to the security of their customer, employee and shareholder's information. With ISO 27001 in place, Explorer are able to minimise risks to potential data security breaches and reduce errors and costs, while demonstrating credibility and trust.
Explorer has shown they have good reliability and process controls for services, which means lower costs for its customers!
"Achieving the ISO 27001 certification is a tremendous milestone, which is testament to the dedication and hard work that everyone within the company has contributed in order to attain this internationally recognised security standard.

By recognising that embedding security at the very core of our business practises, Explorer can give customers the confidence that strict security standards are being adhered to whist managing their business critical systems."

Neil Symons, Technical Services Director
The benefits of certification to ISO 27001 include:
Proving to clients an organisation keeps their information secure;
Achieve operational excellence;
Minimise risk of potential data security breaches;
Protects reputation;
Reduces errors and costs;
Increases business profitability;
Engage employees.
Explorer is an Oracle Platinum Partner specialising in Oracle Database and Infrastructure technologies to design, build and support globally distributed workloads; both on-premise and in the Cloud. Explorer partners with industry & vendor specialists to complement our portfolio of Oracle services and solutions to help solve business problems for our customers and provide a platform for growth. For more information about Explorer, please email ask@explorer.uk.com.
The British Assessment Bureau
The British Assessment Bureau's reputation was established in 1969 as a specialist in certification scheme management. In 1997, the Secretary of State for Trade and Industry approved the use of the word 'British' in their title, in recognition of their pre-eminent status.
Today, they certify organisations to recognised standards, including ISO 9001 (quality management), ISO 14001 (environmental management), ISO 27001 (information security management) and OHSAS 18001 (occupational health and safety management). They also design and manage bespoke assessment schemes. Such schemes are based on the establishment of standards, which can be developed to be recognised company-wide, industry-wide, nationally, or internationally.