For my Tech18 presentation 'The Numerous options for APEX 18.1 Interactive Grid Validation" I needed to prepare a deck of slides and a demo APEX application in which I can quickly switch to.
During rehearsals I need to place the APEX application in its "starting position" and then during the presentation rehearsal itself, I would modify parts of it to demonstrate certain elements of functionality. As other presenters know, it's annoying when certain modifications are not reset to their starting position – making the next rehearsal (or live performance) go a bit wonky especially when its being timed or in front of a live audience.
I needed a precise way to reset an APEX application back to its starting position once a rehearsal or performance has been completed.
I found installing the APEX Application Archive from the App Gallery to be perfect for this and possibly you'll have other reasons to use it too.
First I have to ensure that my APEX application is in its starting position, then I will make an archive by clicking on the Archive Link next to my application (in this case its application ID 162).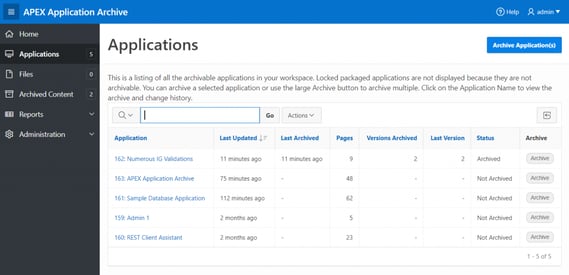 When this is achieved, I'm free to perform the rehearsal and modify the application as much as I want.
When the presentation is over, and I want to restore to the starting position, I simply click on the Archived Content navigation menu entry, find the correct application and version to install (note my version 1 initially wasn't quite right, therefore I created another archive as version 2) and click the Restore button within the record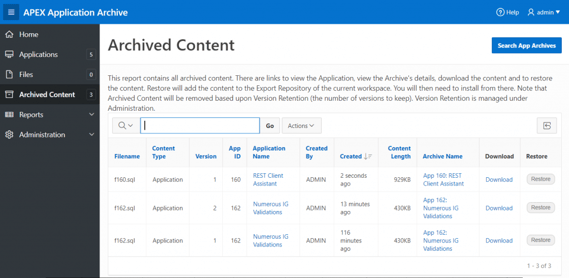 This action places the import file in the APEX Export Repository found under App Builder > Workspace Utilities > Export … > Export Repository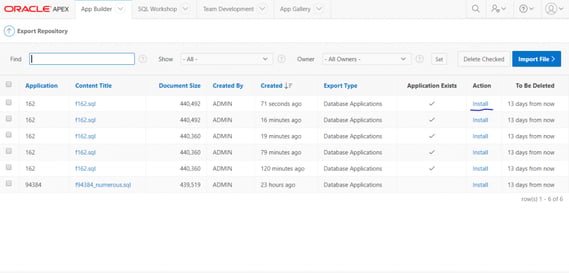 Ordering by Created Descending, I click the Install link within the record and follow the usual installation steps as normal.
Notice that the APEX Export Repository will be purged in 13 days' time, however even if purged, I can still restore from the APEX Application Archive.
---
Author: Matt Mulvaney
Job Title: Senior Oracle APEX Development Consultant
Bio: Matt is an experienced APEX solution designer having designed numerous complex systems using a broad range of Oracle Technologies. Building on his previous experience of Oracle Forms & PL/SQL, he is entirely focused on providing functionally rich APEX solutions. Matt promotes APEX as a software platform and openly shares best practises, techniques & approaches. Matt has a passion for excellence and enjoys producing high quality software solutions which provide a real business benefit.
---